Christmas Mountain USA in Salida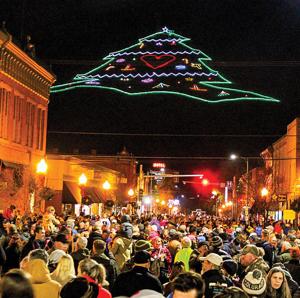 Christmas Mountain USA is a Salida tradition and has a new look this year.  The tree is outlined with green instead of the usual red.
The tradition started in 1989 on Tenderfoot ("S") Mountain and the tree has been outlined in red lights for the Christmas season.
In the beginning, after experimenting with several different colors of lights, it was determined that red showed up the best. That was when they were using the old glass bulbs.
In 2011, project organizers began using LED bulbs, which are 10 times brighter, and this year the outline of the "tree" was changed to green. The LED lights are also less expensive.
Other changes this year included upgrading the electrical equipment that forms the outline of the tree and rebuilding three of the ornaments.
Improvements and maintenance of the mountain are done by a core volunteer group that continues to take on the project, which is managed by Heart of the Rockies Chamber of Commerce.
"Unless you have stood on Tenderfoot Mountain and tried to manage the pitch and the elements, you may have little idea how hard volunteers work to maintain the integrity of the maze of bulbs and wires," said Lori Roberts, chamber executive director.
The cost of maintaining Christmas Mountain USA is provided by donations, which can be made on the home page of salidachamber.org or can be dropped off at the chamber office, 406 W. U.S. 50, or mailed to that address. Checks may be made payable to Christmas Mountain USA.